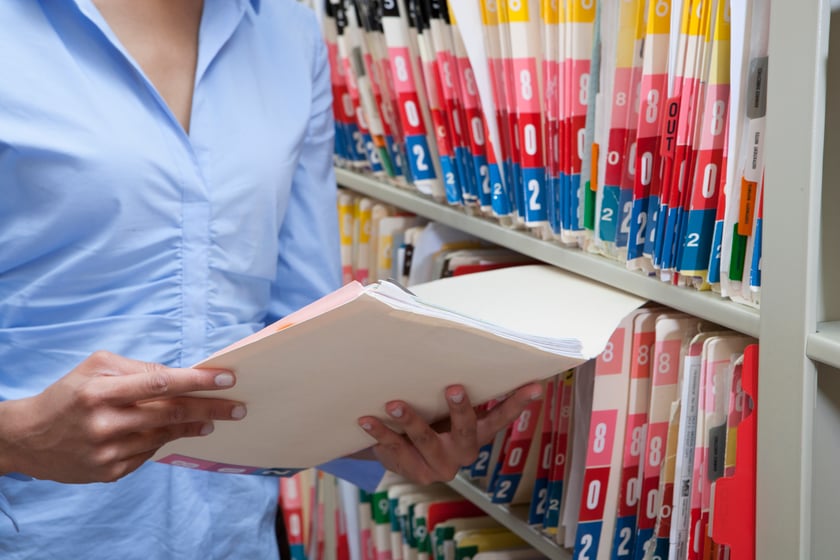 A high-quality medical document storage system is a must for all healthcare organisations, as inefficiency could threaten patient safety. Prompt access to records is essential for medical practitioners to make informed decisions for their patients, in addition to meeting compliance standards.
Medical records contain personal and sensitive information about patients who trust you to look after it responsibly and safely. With the NHS switch to electronic records being gradual and sluggish, many healthcare organisations rely on paper records, which are cumbersome and time-consuming to store.
Choosing An Offsite Storage Provider: What To Look For
It makes perfect sense to outsource patient medical document storage to an offsite specialist, slashing the time and space required to manage a system on your premises. However, if you're choosing a medical records storage company, what should you look for?
1) Security
Medical records contain highly confidential information. If these were to be lost or damaged, the repercussions – in terms of quality of care and patient confidence – could be severe. A document storage company must have strict security protocols that prevent unauthorised access to, or accidental loss of, patient records. The provider should be willing to describe how these protocols influence practice so that documents are stored securely.
2) Access
While security is paramount, documents mustn't be so tortuously protected that there's a delay when access is required. Access should be prompt, not impossible.
3) Compliance
Medical records are governed by data protection law, with specific requirements dictating how long they should be stored. The retention period differs according to the nature of a patient's illness and whether the patient has died. Check that the storage company understands their responsibilities and can demonstrate how they achieve compliance.
4) Cost-Effectiveness
While storing patient records offsite improves productivity and frees up much-needed space on your premises, these benefits shouldn't be at the expense of your healthcare budget. Offsite storage should be more cost-effective than keeping your patient records on-site, so discuss the pricing structure with your chosen provider, particularly seeking flexibility to make the system work for the needs of your organisation and patients.
Storing Medical Records Offsite? Speak To CAS Today.
At CAS, we can store your healthcare practice's documents securely, without compromising on accessibility or cost. We have an excellent understanding of GDPR medical records retention procedures, so we can ensure your organisation meets its legal responsibilities. For more information on our offsite medical records storage, please get in touch today.
Image source: Stock Unlimited