Document and Archive Storage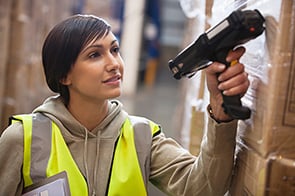 Archive storage solutions and document storage services at our state of the art storage facilities in London, Essex, Suffolk, and the Midlands. For over 20 years CAS have been keeping our clients' documents safe and secure. CAS pride themselves on providing a transparent, efficient, cost effective service.
We begin by collecting your archive storage and document boxes from your company location for FREE. (If you don't have high quality document storage boxes – we can supply them.) All of your boxes will be tracked on leaving your premises and a unique identity number will be given for each box. You will then be able to manage your documents online identifying their exact location on our premises. We use state of the art tracking systems which comply with strict EU and UK regulations.
There is no minimum or maximum amount of boxes you can store with us, and we cater entirely to your specific set of file storage requirements.
If this is the first time you are considering storing your files remotely, or if you are thinking of changing your current archive storage service provider, please contact us and we will gladly discuss your requirements.
Archive Storage Facilities
Clarks Archive Storage facility has been designed to allow maximum flexibility and access to your stored material. Each archive box that we store at our premises is individually bar-coded and scanned using the latest technology, pinpointing its exact location in our warehouses.
If you are a client on an all–inclusive package, and you request any documentation to be returned, each archive box will be scanned when leaving our tracking system, keeping a secure audit trail of all clients' transactions.
Our retrieval and collection service has been proved and tested over many years, but where CAS differ from the competition is that we are always willing to listen to our clients and adjust our service to suit their evolving needs.
Archive Storage Benefits:
Nationwide coverage
FREE same-day collection or retrieval service
2 Hour collection or retrieval covering the whole of London
High-security fire proofed warehousing
State-of-the-art bar-coding systems
Track and trace box monitoring service for collections and deliveries
Would you like to find out more about document storage?
Please go to our Information about document storage page where we have collated information for first time document storage users, and have provided answers to commonly asked questions about our document storage services.
Alternatively you can go to our blog to find out more about document storage and file storage management.
"We have always found CAS Clarks to be dependable and efficient. The staff at Clarks take pride in making their service a personal one."
Please Note: Whilst we are a leading supplier of secure medical records storage, we CANNOT provide any details what-so-ever for personal medical records. Please contact your local NHS practice for details of your personal medical records. Due to data security measures, we will NOT respond to any personal requests for medical records retrieval.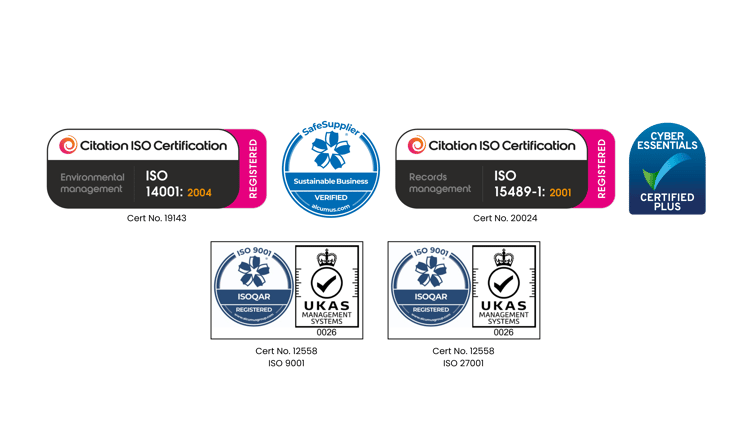 International accreditations
ISO 14001 Environmental Management
We have consistently met management processes that reduce our impact on the environment and contribute to sustainability on both a regional and national level.
ISO 15489 Records Management
Our ISO 15489 accreditation demonstrates that we have achieved all the requirements for the Records Management Industry. With our medical records scanning service, you can rest assured that appropriate attention and protection is given to the processing and management of your document and file storage.
ISO 9001 Quality Management
This best-recognised quality management standard demonstrates that our systems have achieved the highest levels of accuracy and efficiency.
ISO/IEC 27001 Information Technology, Security Techniques and Information Security Management
This ISO accreditation demonstrates our compliance with all international regulations relating to surveillance, security and staff confidentiality - crucial in preserving the security and integrity of private records.
Cyber Essentials Plus
We are compliant with the Cyber Essentials Plus enhanced security audit, an assessment that confirms our organisation meets a specific set of standards in relation to IT infrastructure.