CAS's secure file storage London provides comprehensive and secure document digitisation, information storage and facilities management services in London. For more than 20 years we have worked with NHS Trusts, Financial Services providers, and corporate and private clients. Our head office is just four miles from the City of London, supported by our advanced storage centers across the UK.
General Data Protection Regulation (GDPR)
CAS is fully compliant with the General Data Protection Regulation (GDPR) which takes precedent in British law and across the EU from 25 May 2018. Data protection regulation is changing and CAS can help you get ready. After an extensive review of existing legislation, the European Union adopted the new regulations and the UK government has confirmed that the decision to leave the EU will not affect GDPR coming into force. This important update covers the capture, control, and consent for the use of personal information. It applies to any company operating in Europe, even if they are headquartered elsewhere. Building on core principles established by earlier legislation, GDPR introduces new consumer rights and new obligations for businesses.
Since our foundation, CAS has been compliant with the Data Protection Act 1998 and is registered with the Information Commissioner's Office (ICO), registration number Z1281061.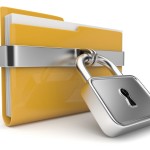 The Fort Knox of Document Storage Facilities
CAS provides cost-effective expert off-site storage of sensitive documents (including medical records archive). Outsourcing your sensitive document archive to CAS presents an opportunity to save office space, increase the security of records, and provide digital access to up-to-date live files within your document archive. Our secure file storage London facilities have a dedicated fleet of GPS-tracked vehicles to control all document transport to and from storage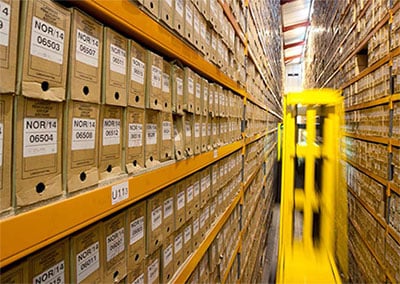 Your security is our priority
All current members of staff have signed confidentiality agreements, and have been checked through either the Criminal Records Bureau (CRB), or the Disclosure and Barring Service (DBS). All prospective new staff will have a standard DBS / Police background check.
The securely gated perimeter is monitored through CCTV Mobotix cameras, MI2 model, to ensure 24/7 secure recording of facilities. Video and audio records are backed up off-site.
Our modern fleet is fully alarmed and fitted with a smart track (Utrack) vehicle monitoring system.
Building entry is controlled with Suprema BioEntry W2 outdoor vandal-proof fingerprint IP access terminals. This provides the latest fingerprint algorithm coupled by powerful quad-core CPU and LFD (live finger detection) technology, with a rugged IP67/IK08 housing.
Our secure file storage London facilities have optical fire beam protection system/air quality monitoring throughout.
Redcare security alarms are linked directly to police and fire brigade.
Corporate Compliance
All confidential documents are shredded on site and 100% of waste material is recycled overseas.
CAS is a fully licensed Waste Carrier, Hazardous Waste Carrier, and Waste Electrical and Electronic Equipment Directive (WEEE) Carrier. Full Upper Tier Waste Carrier Registration No. CB/MM3681NJ.
We can use Radio Frequency Identification (RFID) on all boxes stored on-site, if desired. RFID systems support strict compliance regulations, including UK and EU privacy requirements and Sarbanes-Oxley (SOX). This means we can provide you with one of the highest data management solutions.
All of the documents received will be treated in the strictest confidence at all times.
If you wish to find out more, please call us on 0845 50 50 003.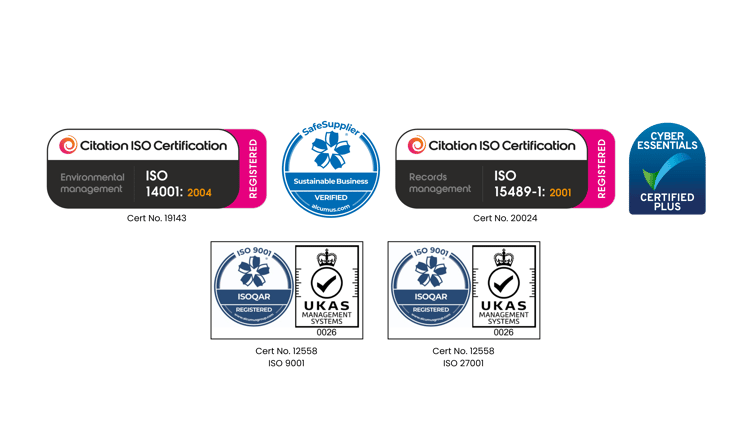 International accreditations
ISO 14001 Environmental Management
We have consistently met management processes that reduce our impact on the environment and contribute to sustainability on both a regional and national level.
ISO 15489 Records Management
Our ISO 15489 accreditation demonstrates that we have achieved all the requirements for the Records Management Industry. With our medical records scanning service, you can rest assured that appropriate attention and protection is given to the processing and management of your document and file storage.
ISO 9001 Quality Management
This best-recognised quality management standard demonstrates that our systems have achieved the highest levels of accuracy and efficiency.
ISO/IEC 27001 Information Technology, Security Techniques and Information Security Management
This ISO accreditation demonstrates our compliance with all international regulations relating to surveillance, security and staff confidentiality - crucial in preserving the security and integrity of private records.
Cyber Essentials Plus
We are compliant with the Cyber Essentials Plus enhanced security audit, an assessment that confirms our organisation meets a specific set of standards in relation to IT infrastructure.