Awarded City status in 2012, Chelmsford is the economic, cultural, leisure and retail centre of Essex. Over the past decades, successful partnerships with business, the South East Local Enterprise Partnership, Government departments and key infrastructure delivery partners have helped the city to enjoy rapid growth and economic development. Chelmsford has particular strengths in financial and business services, medical technology, research and development, and advanced manufacturing. These, along with a strong retail offer, a highly-skilled workforce and unrivalled connectivity, have attracted major corporations to the city including MS Amlin, IFDS, BAE Systems, e2v, Visteon, Battelle and Grant Thornton. Many SMEs that need Secure document storage in Chelmsford have been looking no further than CAS for their services.
Occupying a prominent and strategic location in the heart of Essex, Chelmsford is one of the fastest-growing centres in the region. Its proximity to London, just 35 minutes by rail, is an essential asset and one that has attracted business and skills. As the historic county town of Essex and the region's administrative capital, Chelmsford plays a critical role in the economic success of the area contributing over £3 billion per annum to the economy. The city has very low unemployment and a vigorous community of some 8,000 businesses employing approximately 83,000. Most of these are small and medium sized enterprises (SMEs), with 1-249 employees.
Chelmsford in numbers
172,000 local residents.
89,600 of whom are economically active.
96% of those who are economically active are in employment.
There are over 8,500 companies.
The unemployment rate is just 1.1%.
83,000 Jobs.
Nearly 90% of jobs are in the service sector.
£3 billion contributed to the UK economy.

Off-site secure document storage can offset expensive office space
The Employment Land Review published in October 2014 highlighted that Chelmsford has the highest level of office floor space in Essex, but less than other regional cities. Although there is a significant percentage of 'second-hand' commercial facilities, there is a shortage of high-quality Grade A office space. This puts an increases the cost of premium office space, and that is an area where CAS archive storage and Secure document storage in Chelmsford can help. Our advanced facilities enable companies, especially SMEs, to securely store their papers and records without compromising access to live files.
Reduced insurance costs for Chelmsford-based SMEs
SMEs in Chelmsford who utilise CAS secure document storage in Chelmsford can also benefit from reduced insurance costs. Insurers often provide a reduction in costs if critical documents are stored off-site in secure fired-proofed facilities. This is because off-site storage reduces the business impact of damage to premises, and thus reduces the costs associated with business continuity plans
Modern business sectors supported by CAS
Chelmsford is a haven for modern business, advanced manufacturing; low carbon and renewables; life sciences and healthcare; digital and creative services; business services; and logistics are all sectors that are set to grow across Essex. CAS offers Secure document storage in Chelmsford and CAS-Cloud storage services for companies in any of these sectors and can demonstrate particular expertise in document management for financial services companies, the legal profession healthcare sectors.
Secure MedTech R&D document and medical records storage
The medical technology sector provides an excellent opportunity for Chelmsford over the coming decade. The global medical technology sector (MedTech), is worth £150-170 billion, and the UKs share of that market is estimated at £15 billion. The MedTech Campus in Chelmsford is well placed to maximise the opportunities, benefiting from links with Broomfield Hospital and other private healthcare providers in the area. Anglia Ruskin University's Medical Business Innovation Centre (MEDBIC), caters for medical and advanced engineering start-ups, providing research and development facilities on site along. CAS can provide efficient and secure R&D file and medical records storage for companies operating in this area. Our advanced services offer the highest levels of security and 24/7 access through CAS-Cloud. We have an excellent track record of working with organisations whose document archive arrangements are complex and demanding – and ensuring that we help fulfil client's the obligations set out by the Care Quality Commission (CQC). Find out how we relocated and digitised over 20,000 confidential client health care files for the Cambridgeshire Community Services NHS Trust.
Accredited financial records storage for Chelmsford
Evidence provided through the research undertaken by Regeneris Consulting (a specialist economic development and regeneration consultancy), indicates that there is a large opportunity for growth in the finance and professional services sector in Chelmsford. At CAS, we are experts at storing, transporting and managing sensitive personal data including financial records. As such, we are ideally placed to offer Chelmsford's financial service providers a range of tailored and high-quality document management and facilities management services that meet the standards required by the Financial Conduct Authority (FCA).
For example, our RFID systems support strict compliance regulations — including UK and EU privacy requirements, and Sarbanes-Oxley (SOX). The system provides customers with audit reports that confirm and validate the location of every stored carton; we can help you assure regulators that you are handling sensitive information appropriately.
Secure document storage in Chelmsford will continue to play a fundamental role in helping to ensure the prosperity of the region, and CAS can help local businesses to play their part. CAS is fully prepared for the new General Data Protection Regulation (GDPR), which comes into force May 2018. We are compliant with the Data Protection Act 1998 and registered with the Information Commissioner's Office (ICO) No: Z1281061.
Data Sources: Office for National Statistics (ONS), Chelmsford City Council, Chelmsford Business Board, www.visitessex.com, Chelmsford Economic Strategy 2017.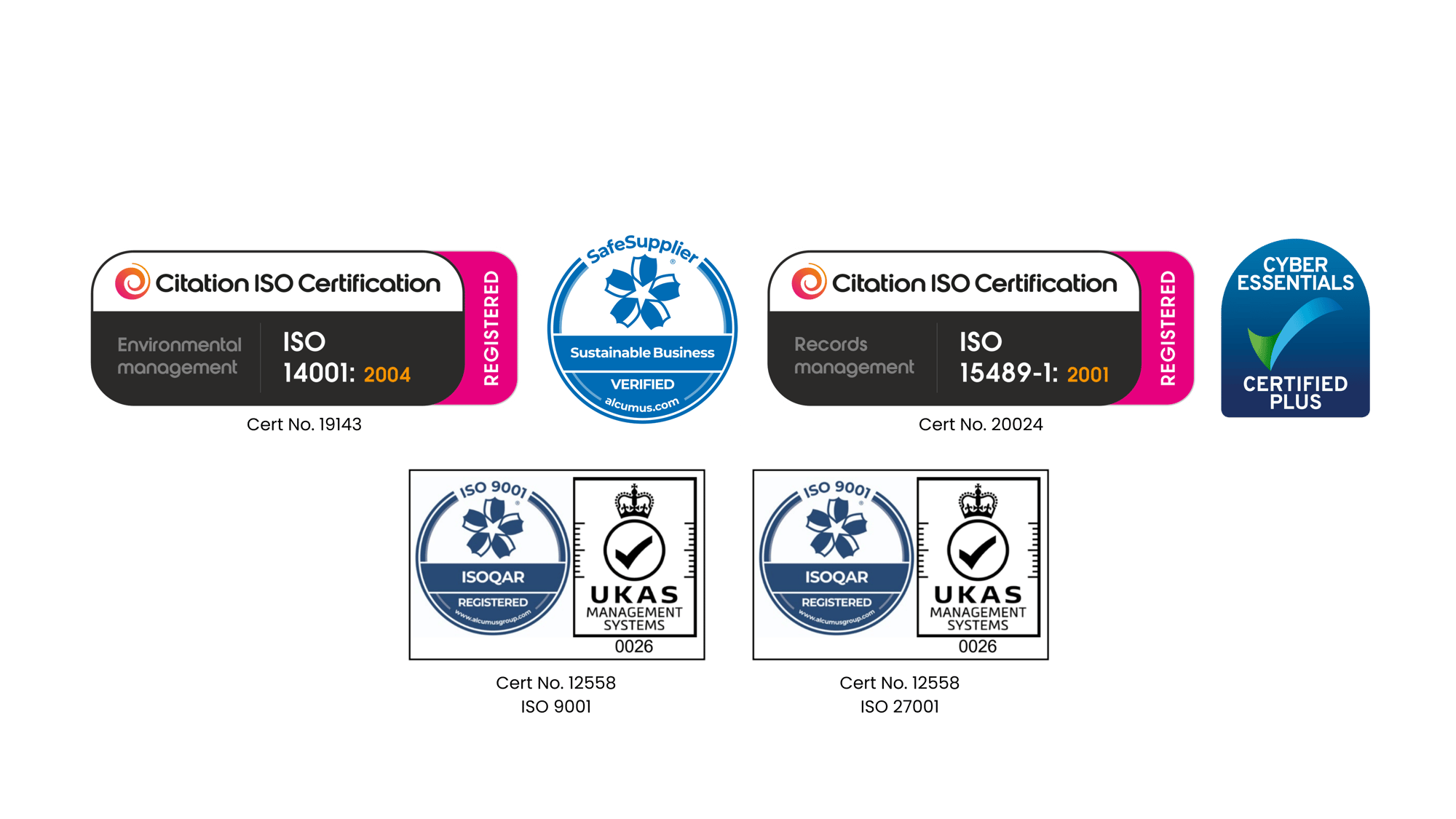 International accreditations
ISO 14001 Environmental Management
We have consistently met management processes that reduce our impact on the environment and contribute to sustainability on both a regional and national level.
ISO 15489 Records Management
Our ISO 15489 accreditation demonstrates that we have achieved all the requirements for the Records Management Industry. With our medical records scanning service, you can rest assured that appropriate attention and protection is given to the processing and management of your document and file storage.
ISO 9001 Quality Management
This best-recognised quality management standard demonstrates that our systems have achieved the highest levels of accuracy and efficiency.
ISO/IEC 27001 Information Technology, Security Techniques and Information Security Management
This ISO accreditation demonstrates our compliance with all international regulations relating to surveillance, security and staff confidentiality - crucial in preserving the security and integrity of private records.
Cyber Essentials Plus
We are compliant with the Cyber Essentials Plus enhanced security audit, an assessment that confirms our organisation meets a specific set of standards in relation to IT infrastructure.