CAS Cloud Document Management System
Save all your important documents and records on the cloud in an ultra-secure, dedicated portal. CAS Cloud offers complete flexibility as to the number and type of documents, 24/7 access for authorised personnel only, swift digitisation of new files, and the help of a team of dedicated document management professionals. Fully compliant with GDPR, CAS is registered with the Information Commissioner's Office (ICO) and can present a range of international certificates to demonstrate our commitment to keeping your records safe.
What issue are you trying to solve?
1. 'My business has got too many paper files in storage'. With office space being so valuable, storing paper documents on-site in an office can work out very expensive, although the costs are often hidden.
2. 'My team keeps losing paper documents'. From time to time everyone puts an important paper down somewhere, whether that's on their desk or in a drawer, but they can't necessarily remember where that is.
3. 'My board has told us we need to improve business efficiency'. However good your filing system, it can be time-consuming tracking down every document you need on a daily basis.
4. 'My organisation operates in several locations, and information is fragmented across them'. For organisations operating from multiple sites, it can be difficult to share documents easily between sites.
5. 'I've been tasked with preparing a disaster recovery solution, and I don't know where to start'. All businesses need to plan for the worst, whether that's fire, flood or theft.
CAS Cloud can help you solve all these problems and more.
What is CAS Cloud?
CAS Cloud is a scanning and archiving system, which offers a simple and fast way to convert your paper archive into searchable electronic documents that are stored on the cloud. We've focused the product on scanning and archiving, in response to customer feedback as to their main needs. Cloud document management allows you to share documents with colleagues using a secure, web-based system.
What can we store?
In this day and age we all know that there is more to document storage than just paper. In CAS Cloud you can store almost any file type, for example:
What do you get?
For a low monthly rental you can start with a one user document management system, which includes 10GB of storage; enough for approx. 150,000 scanned pages. You can access your documents from anywhere where you have a secure internet connection, so it's a great solution if you're travelling or working remotely.
The initial package can be expanded by adding on extra users and/or more storage at any time, which can be particularly helpful if your organisation is based in multiple locations.
How easy is it?
STEP 1: SCAN Simply scan your paper documents, or upload any image or digital document to CAS Cloud.
STEP 2: STORE These files will be automatically imported to CAS Cloud and the text made searchable.
STEP 3: SEARCH Open CAS-Cloud in your web browser and type a word or number that appears in the file and hey presto – there it is! Simple as that!
Whether you continue to store your document archive on-site in your office or off-site at one of our warehouse storage facilities, you can combine CAS Cloud with our other document management services, such as scanning-on-demand and live file storage.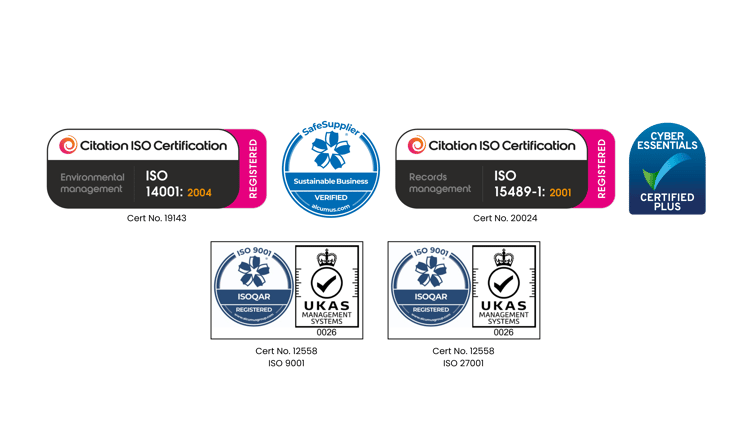 International accreditations
ISO 14001 Environmental Management
We have consistently met management processes that reduce our impact on the environment and contribute to sustainability on both a regional and national level.
ISO 15489 Records Management
Our ISO 15489 accreditation demonstrates that we have achieved all the requirements for the Records Management Industry. With our medical records scanning service, you can rest assured that appropriate attention and protection is given to the processing and management of your document and file storage.
ISO 9001 Quality Management
This best-recognised quality management standard demonstrates that our systems have achieved the highest levels of accuracy and efficiency.
ISO/IEC 27001 Information Technology, Security Techniques and Information Security Management
This ISO accreditation demonstrates our compliance with all international regulations relating to surveillance, security and staff confidentiality - crucial in preserving the security and integrity of private records.
Cyber Essentials Plus
We are compliant with the Cyber Essentials Plus enhanced security audit, an assessment that confirms our organisation meets a specific set of standards in relation to IT infrastructure.