Document Shredding and Box Recycling
Our confidential document shredding and box recycling services are flexible, cost-effective and environmentally responsible
Whether you have documents which you are no longer required to hold, or you are moving to a system of digitised document archive, every organisation sometimes needs to get rid of confidential documents securely and safely. We provide both on-site and off-site document shredding facilities to meet your needs for secure document destruction, confidential shredding and cardboard recycling. There are no hidden costs and all our rates are very competitive. And you can combine this secure shredding service with all our other services such as document storage and archives document storage.
Confidential document shredding: secure and environmentally responsible document destruction
When it comes to shredding or recycling documents, it's important to know what your responsibilities are under the Data Protection Act 1998. If you store any of your customers' and clients' personal data, you should already be registered as a Data Controller with the Information Commissioner's Office (ICO). The ICO website has a useful data protection self-assessment toolkit. If you fail to look after any of this personal data adequately, you might receive an unlimited fine from the ICO – and this would certainly include instances where data had been lost due to documents not being properly disposed of.
It's worth bearing in mind that, for a lot of your documents, you have a statutory requirement to hold them for a certain length of time. You can refer to our handy retention schedule in our Knowledge Bank to check different categories of documents, and what the main reasons for keeping them are.
As part of our document shredding service, all documents are double shredded for your peace of mind and in accordance with data protection requirements, to ensure they cannot be read again. The shredded paper pulp is then securely recycled according to the highest possible environmental standards. CAS is not only flexible in the types of paper we can dispose of, but also the quantities relevant to you.
Highlights of our document shredding service:
All your recycling and shredding in one place: We supply and deliver FREE bins, sacks and consoles for you to gather together all your shredding and recycling.
Completely flexible service: you don't need to sign any contracts with us.
Responding to your needs: We can work with you whether you require weekly collections for secure shredding, or a single office clear-out.
Secure, confidential shredding: you can rest assured that we will take care of your document shredding and recycling needs.
Environmentally friendly: We will collect your items to be shredded using low CO2 vehicles and transport them to one of our energy-efficient, secure destruction facilities. This contrasts with many other companies which offer on-site shredding services, which take up parking spaces outside your business for long periods of time with noisy vehicles that produce lots of CO2 emissions.
Box Recycling
For many organisations with large amounts of documents being stored, bulk cardboard recycling can be a real problem. We offer a box recycling service when boxes are no longer needed, whether you are using on-site document storage at your office, or off-site at one of our warehouse facilities.
We will collect from anywhere in the UK, at times to suit you. We pay strict adherence to environmental policy; all of our document storage boxes are 100% recycled, and our cardboard recycling conforms to the highest environmental standards. Uniquely, CAS does not tie you down to a fixed-term contract, and you only pay for the service you actually use.
If you need more boxes to replace those which you've sent to us for recycling, CAS offer a wide range of robust document storage boxes, Lloyd George medical records boxes and document storage bags.
All our shredding and recycling services are provided by our in-house sister company, Clarks Advanced Shredding. For more information please visit our sister website here: www.advanced-shredding.co.uk – or if you would like to discuss your document shredding or box recycling needs with the CAS team, call us on 0845 50 50 003 or use the Get in touch form on the right hand side of this page.
"We have always found CAS to be dependable and efficient. The staff at Clarks take pride in making their service a personal one."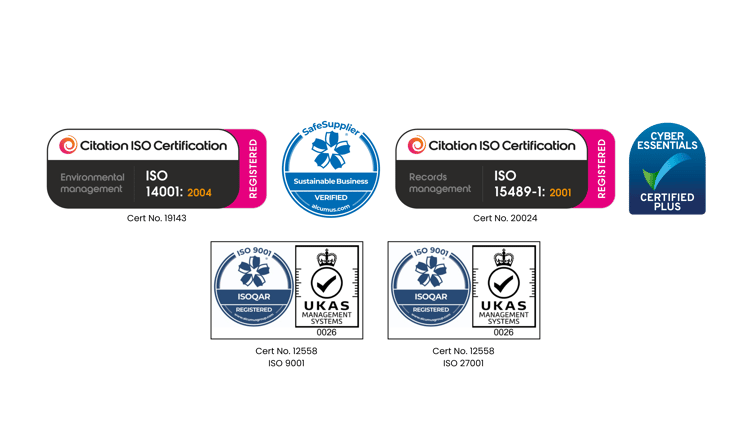 International accreditations
ISO 14001 Environmental Management
We have consistently met management processes that reduce our impact on the environment and contribute to sustainability on both a regional and national level.
ISO 15489 Records Management
Our ISO 15489 accreditation demonstrates that we have achieved all the requirements for the Records Management Industry. With our medical records scanning service, you can rest assured that appropriate attention and protection is given to the processing and management of your document and file storage.
ISO 9001 Quality Management
This best-recognised quality management standard demonstrates that our systems have achieved the highest levels of accuracy and efficiency.
ISO/IEC 27001 Information Technology, Security Techniques and Information Security Management
This ISO accreditation demonstrates our compliance with all international regulations relating to surveillance, security and staff confidentiality - crucial in preserving the security and integrity of private records.
Cyber Essentials Plus
We are compliant with the Cyber Essentials Plus enhanced security audit, an assessment that confirms our organisation meets a specific set of standards in relation to IT infrastructure.